Unleash Media Playback With BubbleUPnP.
Play effortlessly your music and videos to your home connected devices. Whether your media is stored on your Android device, a DLNA media server, cloud storage, Windows Shares (SMB), WebDAV (Nextcloud), Qobuz or TIDAL, BubbleUPnP can play it all and do a lot more!


Of Ongoing Updates And Support
Play to:
your Android device
another Android device running BubbleUPnP
DLNA Smart TVs from Samsung, LG, Panasonic, Sony, ...
UPnP/DLNA/OpenHome music streamers from popular Hi-Fi brands such as Denon, Marantz, Onkyo, Pioneer and much more !
Chromecast devices: v1, v2, Ultra, Nest, Chromecast with Google TV, Smart TVs and music streamers with Chromecast embedded or built-in, NVIDIA Shield, Nexus Player
Amazon Fire TV, Smart TVs with Fire TV built-in
all Xbox models, starting from the Xbox 360
Devices that can browse DLNA media servers: Sony Playstation, Roku (limited to playing local and cloud media exposed by BubbleUPnP)
a computer or NAS running Kodi or JRiver Media Center or any software providing DLNA renderer capability
A raspberry Pi running Volumio, Moode or upmpdcli
Music, videos and images from:
your Android device local storage
standalone UPnP / DLNA media servers: Kodi, Serviio, Plex, MinimServer, Asset UPnP, JRiver Media Center, miniDLNA, Jellyfin and a lot more !
UPnP / DLNA media servers running on NAS (Synology, QNAP, Western Digital, ...) and embedded in some WiFi routers
music streaming services: Qobuz and TIDAL
cloud storage: Google Drive, Dropbox, Box, OneDrive
SMB Shares of your local network from a Windows PC, a Mac, a Samba server
WebDAV servers: Nextcloud, ownCloud, standalone Web Server with WebDAV configured
your own cloud host running the UPnP / DLNA media server of your choice in conjunction with BubbleUPnP Server
many third party Android media apps, via sharing media from these apps to BubbleUPnP
on Android 10+, many third party Android music apps (Apple Music, Amazon Music, YT Music, Deezer, Poweramp, ...), via capturing audio of these apps
Choose playback device
In the Now Playing tab, select on which device of your home network to play your media. Playback devices are automatically detected.
Browse media
In the Library tab, select the Library to browse: either your Android device for your local and cloud media or an UPnP/DLNA media server running on your home network. Folder based browsing allows you to access what you want to play. Search is supported on compatible Libraries.
Play media
Play or enqueue tracks, music albums and videos with the many actions available, backed by a powerful playback queue materialized by the Playlist tab. Shuffle Play is supported.
Control playback
Similar to other familiar media apps, control playback in the Now Playing tab. Use hardware volume buttons for volume control. Control the playback queue in the Playlist tab.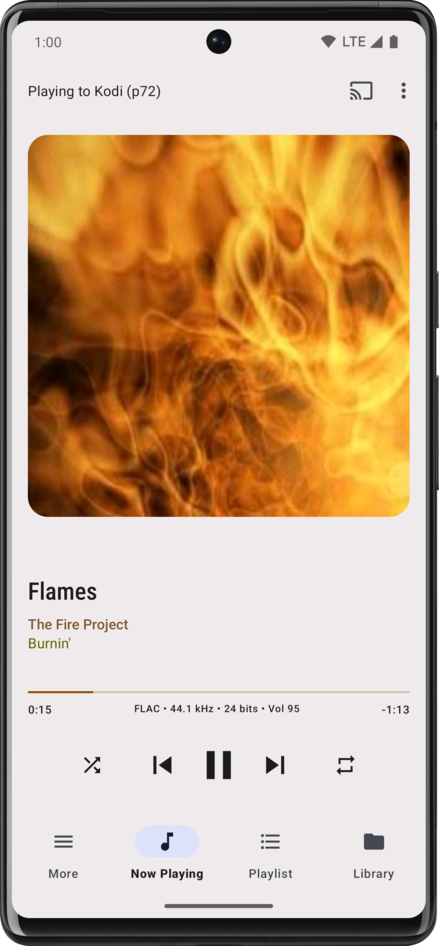 A Fully Featured App.
BubbleUPnP is packed with features.
It can do a lot more than just basic playback if you need it. Here's a non-exhaustive list.
UPnP/DLNA media server
The integrated DLNA media server allows you to browse and play your smartphone and cloud media from other DLNA enabled devices on your network: gaming consoles, Roku, Smart TV, VLC, another Android device running BubbleUPnP...
For example, use your Playstation to browse and play the music stored on your Android device.
UPnP/DLNA renderer
The integrated UPnP/DLNA renderer allows BubbleUPnP to act as a playback device controlled by another Control Point on your home network: another BubbleUPnP instance, an iOS DLNA app, a desktop computer, ...
Transcoding support
Some playback devices may have limited codec support restricting which media they can play.
To address these limitations, BubbleUPnP has extensive transcoding support for Chromecast devices (audio+video), as well as UPnP/DLNA music streamers (audio only).
Remote DLNA Server Access
You are on the go with either a mobile data or WiFi connection and you wished you could access securely your media handled by your home DLNA media server. This is possible with BubbleUPnP Server, an optional software that can run on any machine of your home network (or even in the cloud) and that offers even more features.
Qobuz and TIDAL
BubbleUPnP has extensive support for both these music streaming services offering lossless audio, ideal for playing to a music streamer part of an Hi-Fi setup. Browsing and searching are supported. You can also use the official Qobuz and TIDAL apps to share albums and tracks to BubbleUPnP as well.
Tailored For Music
BubbleUPnP is great for music lovers with special care taken for presenting metadata, in particular for classical music (composer support, no truncation of long titles). Gapless playback is supported for local playback and on some UPnP/DLNA devices. ReplayGain and samplerate conversion are supported.

Extensive Subtitles Support
Download subtiles from opensubtitles.org
embedded subtiles extraction
external SRT files
configurable subtitles appearance on Chromecast (size, font, color, position)
And more !
Light and Dark themes
Downloads
Playlists
Bookmarks
Tablet and Android TV support
Play media links from other apps
lots of customization settings
What Our Users Have To Say.
One of the best player apps. Tried quite some others but for a larger music collection organised in folders this app gives the best presentation. It's fast and efficient. Works perfect with Twonky Server and Minimserver and on my tablet and smartphone as well
Using this app for about 3 years, and can assure it's by far the best option for streaming movies/series to Chromecast. Even unsupported media/format can be transcoded using the phone or a remote server. It have a build-in opensubtitle client, so download subtitle is flawless. Never gave 5 stars to an app, but this one deserves!
Works really well. Does what it says and it offers more than most people need. If there are any issues, contacting the support team via email has always been helpful and quick. Very happy.
This app allows me to use the Denon Ceol and Denon Home gear at home both with Tidal and local library. The Tidal support in BubbleUPnP is much more complete than in the Heos app provided by Denon. Amazing app!
The most essential of all Android apps
Thousands of People Are Using BubbleUPnP daily !